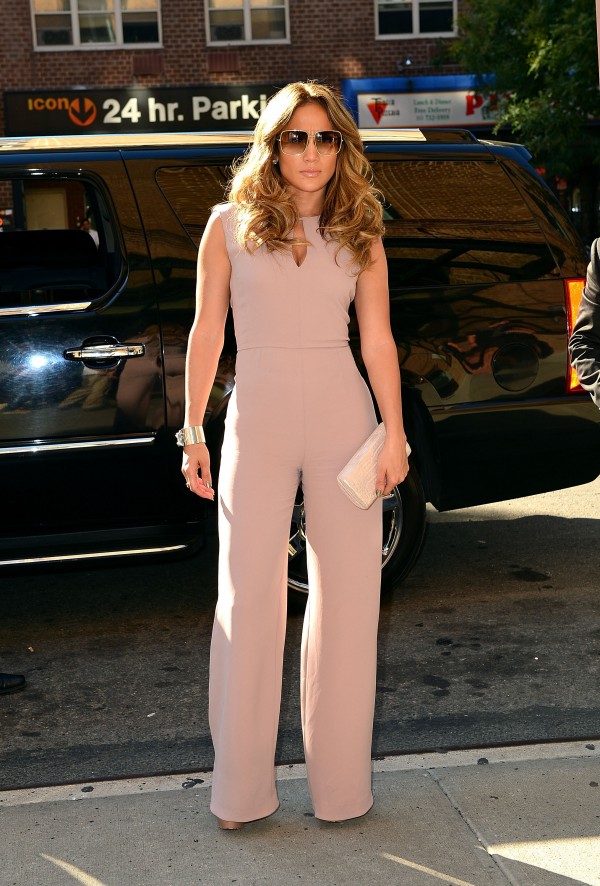 ENGLISH
On September 12, the actress Jennifer Lopez was spotted in the Tribeca neighborhood in New York, wearing a Max Mara dress in a soft "nude" colour with Christian Louboutin platforms and a "clutch" in light coloured reptile. Frankly, I have to say that she's a bit too curvy for such garment and it's not very flattering because it highlights her weakest parts, on the other hand the wavy hair, that is fashionable now, is perfect. I give 10 for the jumpsuit and 5 for the look . What rating would you give?
ITALIANO
Lo scorso 12 di Settembre, l'attrice Jennifer Lopez si trovava nella zona di Tribeca a New York, indossava una tutina di Max Mara in un tenue color "nude" con platò di Christian Louboutin ed una pochette in rettile color cipria.  Sinceramente devo dire che per il suo corpo un po' troppo sinuoso, questo tipo di capo le evidenzia troppo i punti deboli, perfetta invece la messa in piega"ombrè" come va di moda adesso. Un 10 alla tutina e un 5 a chi la porta. Voi che voto le date?
ESPAÑOL
El 12 de septiembre, la actriz Jennifer López estaba en la zona de Tribeca en Nueva York, vistiendo un traje de Max Mara en un suave color "nude" con plataforma de Christian Louboutin y un "clutch" en reptil de color claro. Francamente, tengo que decir que para su cuerpo un poco demasiado curvilíneo, este tipo de prende no le favorece mucho ya que resalta sus puntos más débiles,  por lo contrario el pelo estilo ondulado, como está de moda ahora, es perfecto. Al mono le doy un 10 y al look un 5. ¿Qué nota le darías tu?