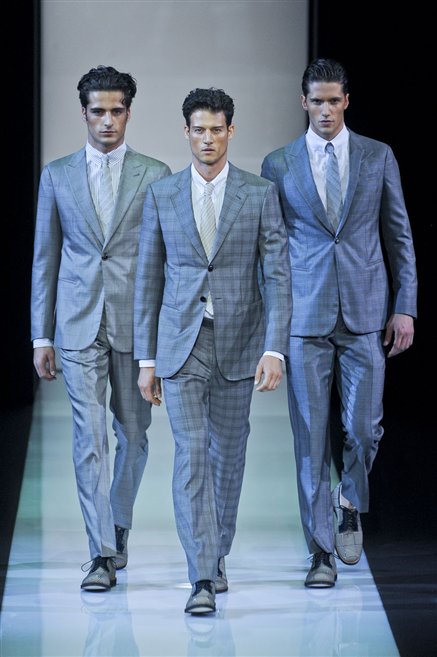 ENGLISH
Hi, Giorgio Armani is often mentioned when you talk about men´s fashion. In fact, any piece wearing his signature is pure tailoring and it´s much more important for men to wear clothes that fits their body than it is for women in my opinion. You reveal elegance, glamor and trend in quality fabrics.
This years spring / summer collection from Armani perceives the return of an elegant man from head to toe, polite and friendly. Lace up shoes, classic or sport jackets, waistcoat over a fit body for a sexy and elegant man. Just what I like! What do you think about loafers without socks?
ITALIANO
Salve, spesso quando si parla di moda uomo, nominiamo Giorgio Armani. Qualsiasi capo etichettato dalla Maison Armani é segno di taglio sartoriale. L'uomo infatti, a mio parere, ha bisogno di portare capi che si adattano al proprio corpo molto più di quanto ne abbia bisogno la donna. L'eleganza, il glamour e la tendenza si rivela con abiti di tessuti pregiati.
Osservando la collezione per la prossima primavera / estate di Armani percepisco un ritorno all'uomo elegante dai piedi alla testa, educato e gentile. Scarpe stringate, giacche classiche o sportive, il gilet a pelle sul corpo sculturale di un uomo sexy ed elegante.Quelli che piacciono a me! Voi che ne dite del mocassino senza calzino?
ESPAÑOL
Hola, a menudo cuando se trata de moda masculina se nombra a Giorgio Armani. De hecho cualquier prenda de esta firma es pura sastrería. El hombre, en mi opinión, tiene que traer ropa que se adapte a su cuerpo mucho más de lo que necesita la mujer. La elegancia, el glamour y la tendencia se revela con telas de calidad.
Observando la colección para la próxima primavera / verano de Armani percibí el retorno del hombre elegante, de la cabeza a los pies, educado y amable. Zapatos de atar, chaquetas clásicas o de sport, chaleco ajustado sobre un cuerpo escultural para un hombre sexy y elegante. Justo los que a mí me gustan! Que pensáis del mocasín sin calcetines?