ENGLISH
Hey guys, this is a styling I did late last summer. A very summery look for this time of year maybe but don´t forget that those following me from the other side of the world have summer right now. As always all the garments are from my own wardrobe, this skirt for example I bought in Rome, the fabric is lightweight and the "crinoline" maintain the shape. I think that this kind of look is perfect for Enza, the outfit blends well with the strong personality of a determinate woman, entrepreneur but especially Mediterranean like her. So, do you like it?
ITALIANO
Salve ragazze, questo é un'altro dei miei styling di fine estate. Un look decisamente estivo per questo momento dell'anno ma, per qualcuno che mi segue dall'altra parte del mondo cade a pennello! Come sapete i vestiti che uso per gli styling fanno parte del mio armadio; questa gonna in particolare l'avevo acquistata a Roma, il tessuto é leggero e la crinolina mantiene il movimento ondulatorio. Il risultato con Enza mi é piaciuto moltissimo, anche l'outfit va con la personalità grintosa, di una donna decisa, imprenditrice ma sopratutto mediterranea come lei.Vi piace?
ESPAÑOL
Hola chicas, este es otro de mis styling de finales de verano. Un look muy veraniego para esta época del año, pero para alguien que me sigue en el otro lado del mundo cae como anillo al dedo! Como sabeís, la ropa que uso para mis styling sale de mi armario; esta falda por ejemplo, la compré en Roma, el tejido es ligero y la 'crinolina' mantiene el movimiento de balanceo. El resultado con Enza me gustó mucho, en especial el outfit se funde con la personalidad enérgica, de una mujer decidida, emprendedora pero sobre mediterránea como ella.¿Os gusta?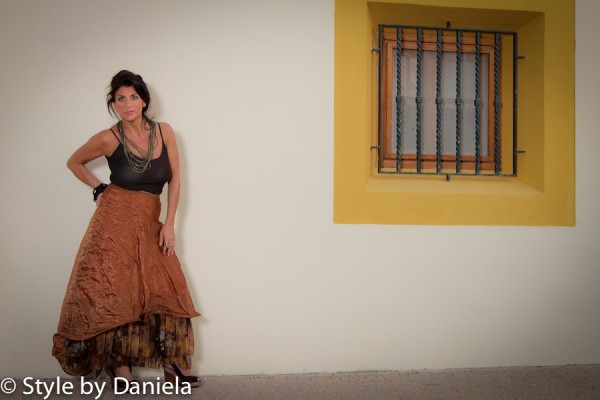 Top – Sita Murt  / Skirt – Amica collection (boutique Rome) / Shoes – Geox