ENGLISH
For sure, nothing is left to chance, it´s not only in my private life that I try to achieve perfection, in my own small world of fashion it´s the same. Of course I´m no longer a young girl, even though I feel like one sometimes, but one should be able to look in the mirror every morning and give yourself a smile and realize that life is full of wonderful and an exciting things. The blog has permitted me to be creative and to express moments in my life through fashion and my outfits. This morning I was this glamorous with a silk robe, a lace body, my favorite ELLE magazine that I receive each month and a nice cup of coffee, the only thing I missed was some jewelry from Tiffany´s to complete this glamorous morning. What else can you ask for?
ITALIANO
Effettivamente, niente e´lasciato al caso il mio senso di perfezionismo mi trascina non solo nella mia vita privata ma, anche nel mio mondo sulla moda. Certamente non sono piu´una ragazzina, anche se mi sento come tale in molti momenti della mia vita; bisogna sapersi regalare un sorriso ogni mattina, guardarci allo specchio e sentire che la vita e´piena di cose eccitanti e fantastiche. La moda intesa come creativitá personale é diventata per me con il blog , un continuo superamento che mi permette di esprimere i momenti della mia vita attraverso le immagini dei miei outfits che rispecchiano lo stato d'animo del momento. Questa mattina mi sono svegliata così, con glamour, una vestaglia di raso nera, un body ricamato, la mia rivista ELLE favorita che ricevo mensilmente a casa ed un buon caffé, solo mi mancava Tiffany per coronare una mattina con glamour. Ma cosa si puó voler di piú?
ESPAÑOL
En efecto, nada está dejado al azar, el sentido del perfeccionismo no sólo me sigue en la vida privada, tambien en mi propio mundo sobre la moda. Esta' claro que ya no son niña, a pesar de que me siento así muchas veces en mi vida, uno debe ser capaz de regalarse una sonrisa cada mañana y mirarse en el espejo y ver que las cosas en la vida son maravillosas y emocionantes. La moda vista bajo el sentido de la creatividad ha llegado a ser con el blog una superación continua que me permite expresar los momentos de mi vida atravez de los outfits que reflejan el estado de ánimo del momento. Esta mañana me he despertado asi' de glamurosa, una bata de seda, un body con encaje, mi revista ELLE favorita que recibo cada mes y un buen café, solo me hubiese faltado un Tiffany para completar esta mañana glamurosa. Pero, ¿Qué se puede pedir más?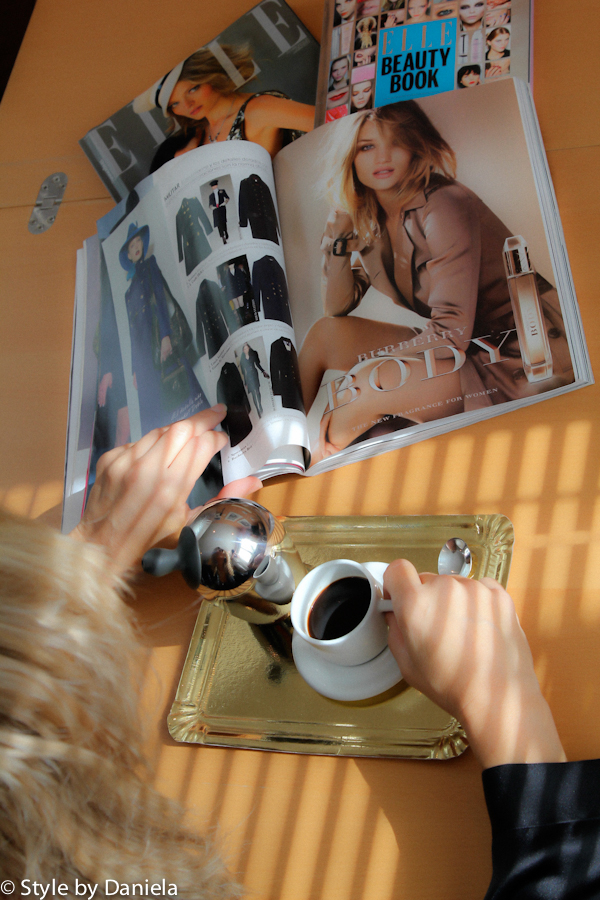 Robe – Modin Lenceria / Body –  Gemma / Slippers – Jacques Levine